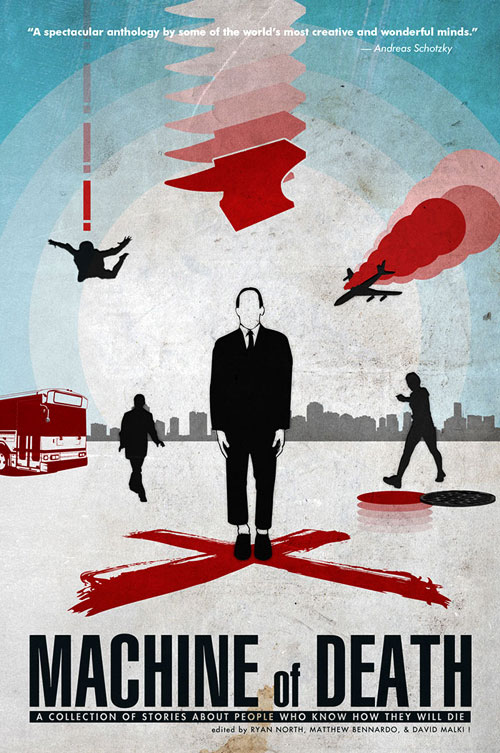 The machine had been invented a few years ago: a machine that could tell, from just a sample of your blood, how you were going to die. It didn't give you the date and it didn't give you specifics. It just spat out a sliver of paper upon which were printed, in careful block letters, the words DROWNED or CANCER or OLD AGE or CHOKED ON A HANDFUL OF POPCORN. It let people know how they were going to die.
The problem with the machine is that nobody really knew how it worked, which wouldn't actually have been that much of a problem if the machine worked as well as we wished it would. But the machine was frustratingly vague in its predictions: dark, and seemingly delighting in the ambiguities of language. OLD AGE, it had already turned out, could mean either dying of natural causes, or shot by a bedridden man in a botched home invasion. The machine captured that old-world sense of irony in death — you can know how it's going to happen, but you'll still be surprised when it does. (More at http://machineofdeath.net/about)
I picked up a copy of MACHINE OF DEATH about a month ago, in a bookstore which was closing (but now, isn't) in another state while wandering around my favorite small town. "I've heard good things about that," the man I was with said to me, looking down at the antholgy. I picked it up, trusting his judgement about books. It was thick and had a lot of names on the back and was edited by a couple of guys I was certain I'd never heard of, but a dystopian collection of short fiction about a machine which ironically predicts the exact manner of your death? I was sure I'd love it.
Turns out I was only right about one of those things.
MACHINE OF DEATH was at least 1/3 edited by Ryan North, based on an idea he'd put into one of his comics a while back. While I couldn't place the name of the guy, the name of the strip was DINOSAUR COMICS and upon realizing that I did a happy little dance. I love T-Rex and Utahraptor and Dromiceiomimus! and follow them on Twitter and I even tolerate the regular appearance of GOD, who in this comic is usually high anyway. (What, no one else thinks that? It's just me? Hmm.) I belatedly remembered the strip in which the idea appeared, where T-Rex decides he'll eventually write a story on the idea that a machine can predict your death, which in the case of cows just means there were a lot of prediction cards which read MADE INTO DELICIOUS CHEESEBURGERS.
It could have stayed a joke. It could have, even after submissions started rolling in and the idea became an anthology, stayed funny, and maybe even veered into ridiculous.
It didn't.
MACHINE OF DEATH is, when you get down to it, pretty brilliant. There are a few funny stories and a few silly ones and a few which take an alt-history view of the world but for the most part this is our Earth and our frail and brittle humans and a machine which does only one thing but does it perfectly. What do you do then, when you know how you'll die? When everyone everywhere knows how, but almost never when they'll shuffle off this mortal coil (and to be honest those perfectly right predictions are vague in a sort of unhelpful way)? Whether the characters hide, plead, bargain, grieve, and refuse to live what time they have left, or use it as a way to live recklessly by indulging in every whim except the one attached to their prediction slip, the stories in this collection show you something worth thinking about.
What if you knew? What would you change about the life you're living right now?
In a way, I think that's the best part of this anthology. It acts as its own memento mori, holding up its artifice and saying, "Remember your death – it's coming," but by shrouding it in fun and whimsy, you get to feel safe about it. It's almost like getting bad news while being wrapped up in comfy blankets, snuggled with your favorite person/pet/stuffed animal, while cookies bake in the oven, and knowing that if you don't like the news, you can always put it back on the shelf and look at it again later when you're ready. We all die, kids, most of us faster than we'd have liked, and it's refreshing to be reminded of it every so often. It could be CANCER or LOSS OF BLOOD or a CRASH of some kind or even something interesting like MURDER or EXHAUSTION FROM HAVING SEX WITH A MINOR but one way or another, we all go. No matter who you are, there's a death in there for you, and a story which will make you consider your own choices.
And if you're not up for that, there's always FLAMING MARSHMALLOW.